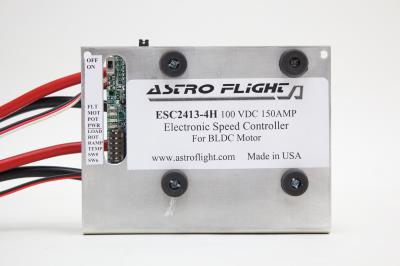 ESC-2413 BLDC SENSORLESS SPEED CONTROLLER
Price $1,199.99

1,199.99
ESC-2413 BLDC SENSORLESS SPEED CONTROLLER More Details
The ESC-2413 is a high power, high voltage, high current sensorless brushless motor speed controller capable of up to 15kW. It is designed with industrial applications in mind.
Features
High voltage operation (up to 100V)

High true continuous current (150A)

Large capacitor bank reduces noise in the system and battery

Large fan keeps the FETs and capacitors running cool and efficient

Intelligent adjustable startup sequence allows the controller to start the motor under light or heavy loads

Rotation switch eliminates the need to swap connectors

Temperature sensing protects both the motor and controller from excessive temperatures

Throttle control using either a potentiometer or RC PWM signal

Built-in precharge connector protects the system from sparks when the power connectors are plugged in

Dimensions: 5 x 3.75 x 3 inches

Weight: 1.5lbs

Made in the USA
There are 4 different models of the ESC2413:
| | | | |
| --- | --- | --- | --- |
| Model | Voltage | Current | Price |
| ESC-2413-4H | 100V | 150A | 1499.99 |
| ESC-2413-4L | 80V | 150A | 1399.99 |
| ESC-2413-2H | 100V | 80A | 1299.99 |
| ESC-2413-2L | 80V | 80A | 1199.99 |
Warranty
Astro Flight, Inc. warrants all products against defects in material and workmanship for a period of 90 days, from the date of purchase. During the warranty period, Astro Flight will repair or replace the product. This warranty does not apply if the product has been damaged by accident, abuse, misuse or misapplication, nor as a result of service or modification made by others. Astro Flight is not responsible for incidental or consequential damages resulting from the use of this product. This includes damages to intellectual information, property and personal injury. Astro Flight reserves the right to make changes in future product design, without reservation and without notification to its users.
Returns
Please contact the Customer Support Department to obtain a Return Merchandise Authorization (RMA) number, before shipping the product back to Astro Flight. Returns will not be accepted without a valid RMA number. For faster service, please have the following information on hand when calling or emailing for an RMA number: customer name, invoice number and reason for return. Shipping charges on returned items are the customer's responsibility. Products should be returned with shipping charges prepaid, along with proof of purchase, a description of the problem and the issued RMA number. All returned products are subject to a 15% restocking fee.
Powered by ShopSite Shopping Cart Software