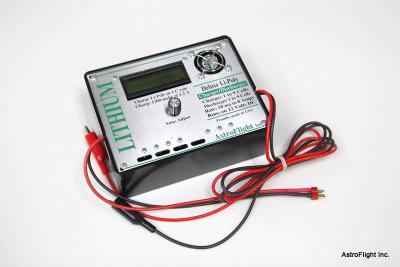 109D LITHIUM POLY CHARGER
Price $123.53

123.53
109D LITHIUM POLY CHARGER More Details
Product Specifications
Charges from one to nine cell Lithium Poly Battery Packs.
Charge rate 50 ma to 9 amps. Male DeansUltra connector.
You may also like to have the Power Supply part #120
Lithium Batteries Are A Potential Fire Hazard, DO NOT Leave Unattended While Charging.


| | |
| --- | --- |
| Cell Types | Lithium Polymer |
| Minimum Cells | One cell |
| Maximum Cells | Nine cells |
| Maximum Charge rate | 9 amps |
| Minimum Charge rate | 50 ma |
| Charge Time cut off | 10 hours |
| Discharge Rate | 1.25 amps |
| Discharge cut off | 3.2 volts per cell |
| Current Display | 50 ma to 10 amps |
| Voltage Display | 0 volt to 40 volts |
| Charge time Display | hrs, min and seconds |
| Amp hour Display | 0 to 95 Amp hours |
| Supply Voltage | 12 to 15 volts |
| Supply Current | 0.1 to 16 amps |

WARNING! LITHIUM BATTERIES ARE A POTENTIAL FIRE HAZARD!
NEVER LEAVE THE BATTERY UNATTENDED WHILE CHARGING.
ALWAYS CHARGE IN A FIRE PROOF CONTAINER.
Never top off a fully charged battery nor charge a swollen pack.
Never fast charge if any cell is less than 3.2 volts.
You may use our Astro #106 Blinky to help you.
Always verify & monitor correct battery voltage & correct cell count.
For your SAFETY, NEVER CHARGE IN A HOME, GARAGE NOR MOTOR VEHICLE
PLEASE READ & REREAD ALL DIRECTIONS!

The battery connector is a licensed product by WS Deans US Patent # 5,533,915
Warranty
Astro Flight, Inc. warrants all products against defects in material and workmanship for a period of 90 days, from the date of purchase. During the warranty period, Astro Flight will repair or replace the product. This warranty does not apply if the product has been damaged by accident, abuse, misuse or misapplication, nor as a result of service or modification made by others. Astro Flight is not responsible for incidental or consequential damages resulting from the use of this product. This includes damages to intellectual information, property and personal injury. Astro Flight reserves the right to make changes in future product design, without reservation and without notification to its users.
Returns
Please contact the Customer Support Department to obtain a Return Merchandise Authorization (RMA) number, before shipping the product back to Astro Flight. Returns will not be accepted without a valid RMA number. For faster service, please have the following information on hand when calling or emailing for an RMA number: customer name, invoice number and reason for return. Shipping charges on returned items are the customer's responsibility. Products should be returned with shipping charges prepaid, along with proof of purchase, a description of the problem and the issued RMA number. All returned products are subject to a 15% restocking fee.
Powered by ShopSite Shopping Cart Software