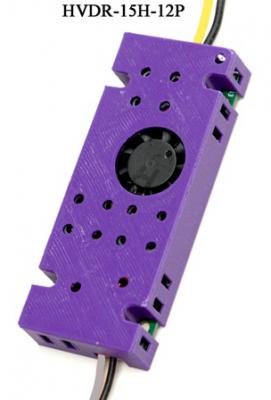 HVDR-15 HIGH VOLTAGE DC-DC VOLTAGE REGULATOR
Price $99.00

99.00
HVDR-15 HIGH VOLTAGE DC-DC VOLTAGE REGULATOR More Details
The HVDR-15 is a high efficiency, high voltage step down DC to DC voltage regulator. Input voltage can be as high as 110VDC. Up to three output voltages can be pre-configured to allow up to 1A or 3A of output current. The HVDR-15 features over voltage, over current, and over temperature protection. It is offered in one, two, or three output voltage versions making it a very efficient and flexible platform for many applications.
Users can choose a higher input voltage version (110V) or a lower input voltage version (60V) with better voltage conversion efficiency. The HVDR-15 is especially suitable for high voltage battery powered applications. It allows the input voltage to drop down, over time, while still maintaining the configured output voltages and wattages closely. The high voltage version will work even when the battery voltage drops to 24V above the configured voltage. The low voltage version allows the voltage to drop down to 2V above the configured voltage.This feature is useful and crucial for prolonged battery operations.
Packaged in a lightweight, low profile, small form factor, with a built-in heatsink and cooling fan. The HVDR-15 can be mounted vertically or horizontally over a PCB as well as mounted onto a panel. Input and output wires are colored to indicate different voltages.
HVDR-15 ASSEMBLY PART NUMBER
HVDR-15#-XXYYZZ&
# = L for 24V to 60VDC input (up to 92% efficient)
# = H for 24V to 110VDC input (up to 82% efficient)
XX = Voltage of 1st port (3A)
YY = Voltage of 2nd port (1A), optional
ZZ = Voltage of 3rd port (1A), optional
& = P = Panel Mount
& = H = Horizontal PCB Mount
& = V = Vertical PCB Mount
PRICES VARIES DEPENDING ON CONFIGURATION AND OPTIONS - PLEASE CONTACT ASTRO FLIGHT SALE DEPARTMENT FOR MORE DETAILS
HVDR-15H-12P means HVDR-15 with up to 110VDC input, 12V output and panel mount. (AS PICTURED AND PRICED)
HVDR-15H-120503H means HVDR-15 with up to 110VDC input, 12V, 5V and 3.3V output and Horizontal PCB mount.
The total maximum output wattage is 3A x Port 1 voltage.
Port 2 and Port 3 are optional and capable of 1A load each.
Port 1 is capable of 3A load current, but its wattage is subtracted by Port 2 and Port 3 wattages.
Input power: GRY/BLK, 20 AWG wires.
Output power: YEL/BLK, 12V, 18 AWG, 3A, Port 1.
(typical color) RED/BLK, 5V, 20 AWG, 1A, Port 2.
ORG/BLK, 3.3V, 20 AWG, 1A, Port 3.
Dimensions: 3.3"(84mm) x 1.3"(33mm) x 0.6"(15mm).
Operating Ambient Temperature: -40ºC to +40ºC.
Weight: 2 - 2.5 oz. (57 - 71 g), depending on options.
Example configurations:
HVDR-15H

Port 1

Volt/Watt

Port 2

Volt/Watt

Port 3

Volt/Watt

-12P

12V/36W

0

0

-1205P

12V/~31W

5V/5W

0

-120503P

12V/~27.7W

5V/5W

3.3V/3.3W
Contact Astro Flight for custom voltage configurations
Warranty
Astro Flight, Inc. warrants all products against defects in material and workmanship for a period of 90 days, from the date of purchase. During the warranty period, Astro Flight will repair or replace the product. This warranty does not apply if the product has been damaged by accident, abuse, misuse or misapplication, nor as a result of service or modification made by others. Astro Flight is not responsible for incidental or consequential damages resulting from the use of this product. This includes damages to intellectual information, property and personal injury. Astro Flight reserves the right to make changes in future product design, without reservation and without notification to its users.
Returns
Please contact the Customer Support Department to obtain a Return Merchandise Authorization (RMA) number, before shipping the product back to Astro Flight. Returns will not be accepted without a valid RMA number. For faster service, please have the following information on hand when calling or emailing for an RMA number: customer name, invoice number and reason for return. Shipping charges on returned items are the customer's responsibility. Products should be returned with shipping charges prepaid, along with proof of purchase, a description of the problem and the issued RMA number. All returned products are subject to a 15% restocking fee.
Powered by ShopSite Shopping Cart Software