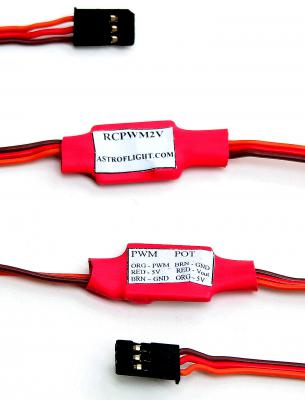 RCPWM2V PWM TO VOLTAGE SIGNAL CONVERTER
Price $31.49

31.49
RCPWM2V PWM TO VOLTAGE SIGNAL CONVERTER More Details
The RCPWM2V is a device that converts a standard hobby RC signal (1-2ms pulse) into a proportional analog voltage (0-5V).
In many electronics applications the main processor is constantly busy and does not have the ability to address the time-sensitive PWM signal from an RC receiver immediately. This results in signal distortion or a sluggish response due to the extra filtering required. The RCPWM2V provides a simple solution by converting the signal into an analog signal. The main processor can then read the signal whenever it has time.
The input connector is a standard keyed male Futaba connector that plugs directly into the RC receiver.
The output connector is ordered so that it mimics a potentiometer (Ground, Signal, 5v).
The converter must be powered by the output side. It can pass 3A to the receiver, but the real current limit will depend on the supply from the controller.
Warranty
Astro Flight, Inc. warrants all products against defects in material and workmanship for a period of 90 days, from the date of purchase. During the warranty period, Astro Flight will repair or replace the product. This warranty does not apply if the product has been damaged by accident, abuse, misuse or misapplication, nor as a result of service or modification made by others. Astro Flight is not responsible for incidental or consequential damages resulting from the use of this product. This includes damages to intellectual information, property and personal injury. Astro Flight reserves the right to make changes in future product design, without reservation and without notification to its users.
Returns
Please contact the Customer Support Department to obtain a Return Merchandise Authorization (RMA) number, before shipping the product back to Astro Flight. Returns will not be accepted without a valid RMA number. For faster service, please have the following information on hand when calling or emailing for an RMA number: customer name, invoice number and reason for return. Shipping charges on returned items are the customer's responsibility. Products should be returned with shipping charges prepaid, along with proof of purchase, a description of the problem and the issued RMA number. All returned products are subject to a 15% restocking fee.
Powered by ShopSite Shopping Cart Software